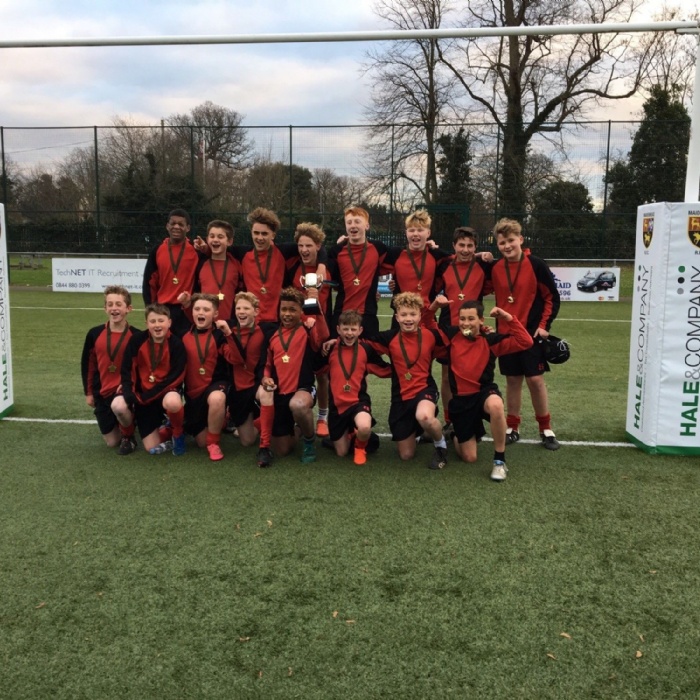 The Year 9 rugby team continues to excel. A few weeks ago they retained the Reading Rugby League for the third time - having won it in Year 7 and 8 - going the whole season undefeated. A new challenge was needed in the Berkshire County Cup. This tournament involves schools from across the county including independent and schools with established performance rugby programmes.
Travelling to Park House School in Newbury all the way to Furze Platt in Maidenhead the team worked with dedication and focus in every match. Again, remaining undefeated they played the final against Blue Coat School on Thursday 30th November at Maidenhead Rugby Club. Despite the freezing conditions and the unfamiliar artificial pitch, the team were fantastic.
Blue Coat made a quick start with an early try from a well-organised passing attack. On the way back to the restart, Highdown recognised this was going to be a tough match and needed to respond. What followed was an excellent display of determination and teamwork. The Blue Coat attack were simply not allowed to the Highdown try line as tackle after tackle held them back. Tyrese Jordan made an immense tackle from a scrum. It was so well timed the opposition player spilt the ball allowing Captain Solomon Arbuthnot-Whittaker to weave up the pitch and score one of his two tries. Lucas Beeney and Oliver Langton amongst others made some fantastic tackles. Oskar Browning played a clever role at full back and covered every Blue Coat attack. In possession, Highdown made a lot of ground. Ted Reano and Michael Duda bravely running at the opposition with power.
However, we found more joy on the side of the pitch when the ball was passed out to Solomon on the wing or Finn Hoadley. When Finn was able to find space, Blue Coat did not have an answer for his speed, strength and ability to change direction quickly and three tries followed. As a result Highdown recovered from conceding early and finished the game 38-24 winners.
Keep up to date with the latest sports news from Highdown by following the department on Twitter!