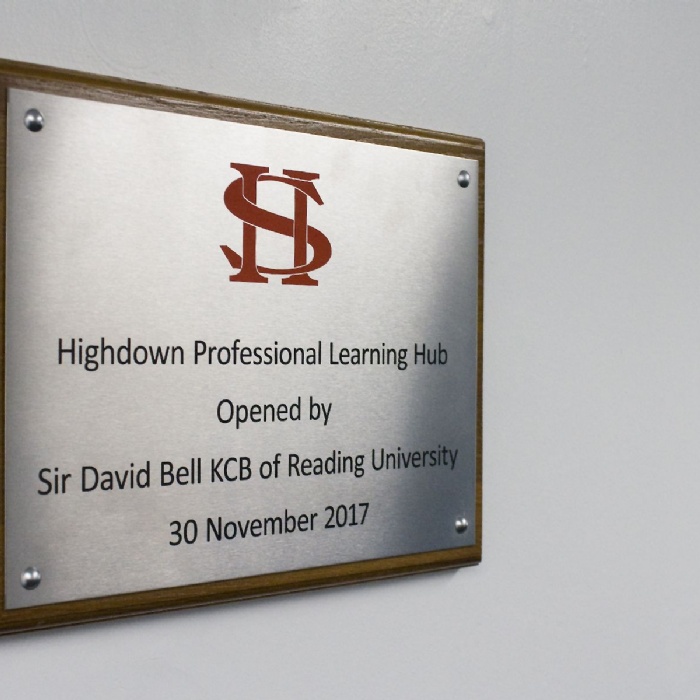 Last week we were delighted to welcome Sir David Bell, Vice Chancellor of the University of Reading, to Highdown to officially open our brand new Professional Learning Hub.
In a career spanning over 35 years, Sir David has held a number of major posts across the education system. He was Permanent Secretary at the Department for Education for six years, serving four Secretaries of State and three Prime Ministers. Prior to that, he was Her Majesty's Chief Inspector of Schools for nearly four years.
Sir David began his career as a primary school teacher and later became a head teacher. He was Director of Education and Libraries with Newcastle City Council and Chief Executive of Bedfordshire County Council. He was also a Harkness Fellow based in Atlanta, Georgia for a year.
The Professional Learning Hub has been the dream of the school for four years. The attics were not fit for usage and in many ways a solution looking for the problem to solve. We knew that it could be a fantastic professional learning hub right at the centre of our school.
Our Business Manager and team writing the bids for refurbishment of our manor house had hoped for this dream to be realised a year ago, but the state of the building was such that all monies we achieved for renovation and refurbishment were used in making the building water tight.
From here we will be (and have already started) running our Joint Professional Learning sessions. Using the rooms to mock up lessons and practice techniques and get class fit! It gives a base for our ITTs from all our partner institutions to mix and share ideas, feedback on success and learn from both the achievements of teaching and when things didn't go to plan. Mixing across subject specialists will make a rich professional dialogue over a coffee.
We are delighted that we are re-training teachers this year in Physics and Maths through TSST bid and are hopeful of expanding our reach with new partnerships through a much sought after teaching school status. We are thrilled with support from Reading University and Reading LA for our bids an aim to become a regional centre of excellence in professional training both for Highdowners and other colleagues at every stage of our wonderful profession.