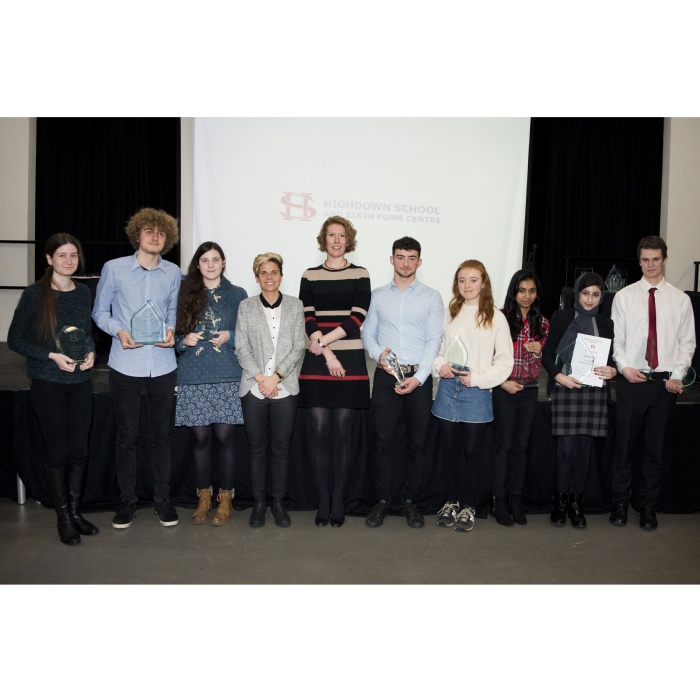 Before Christmas the annual Certificate Presentation Evening took place. Congratulations to all the students who collected their GCSE and A Level certificates as well as our Prize Winners. Some of them are pictured above with Headteacher Ms Cave and our special guest Sue Smith, England footballer. Unfortunately others were still at university and unable to attend.
The 2017 prize winners were Gideon Lewis (Business & Economics), Louis Allsop & Ursula Dale (English), Billy Goodworth (Expressive Arts), Natalia Chamova (Humanities), Lizzy Hawken (Maths), Caitriona Dowden (MFL), Freddie Kemp (PE), Megan McDonnell (Science), Surabhi Lutha (GCSE Academic Excellence), Gideon Lewis (A Level Academic Excellence) and Neyma Siddiqui (Leadership).
Professional photographs of each student collecting their certificates and achievement awards are available for parents and students to view and order online. Visit www.dianefrazerphotography.co.uk and go to the client login to enter the password, which can be found in the back of the event programme. (If you have forgotten the password, please contact the school office).
There is the opportunity to purchase prints and digital photos. 10% of each order will be donated to Highdown School and Sixth Form Centre or a charity supported by the School. Orders are to be placed by Monday 22 January 2018. Any enquiries about the photos please contact Diane, schools@dianefrazerphotography.co.uk.