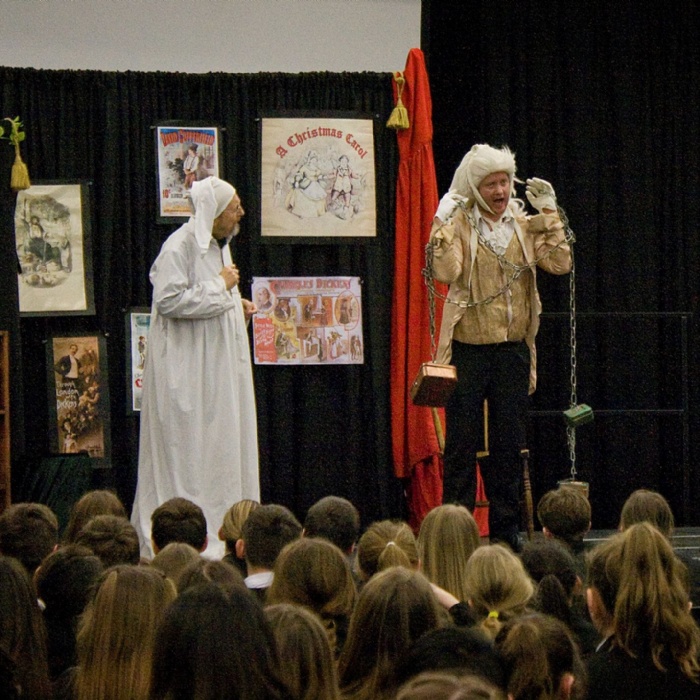 This week the Globe Players visited Highdown. As in recent years, they performed Macbeth to Year 9, and Romeo and Juliet to Year 8 pupils to support them with their English Shakespeare studies.
New this year was a production for Year 7 about Charles Dickens.
What the Dickens! Was performed to Highdown's Year 7 pupils giving them the pleasure of knowing a wonderful array of extraordinary characters. The production, displaying Charles Dickens' most fantastical, comical and larger-than-life creations, was brim-full of both. We saw Oliver Twist's hungry request for more gruel, the charity collectors expressing a wish for a contribution from Ebenezer Scrooge at Christmas time and Bob Cratchit's tentative hint that a raise in his wages might put more life into his son, Tiny Tim, but before long Mr Scrooge has a chastening encounter with the ghost of his partner, Jacob Marley. Ghosts galore!
We were introduced to Mr Bumble, the Artful Dodger and Wackford Squeers. The performance was superb and enjoyed by all!
After all the performances, students interviewed two of the actors for Highdown School Radio.