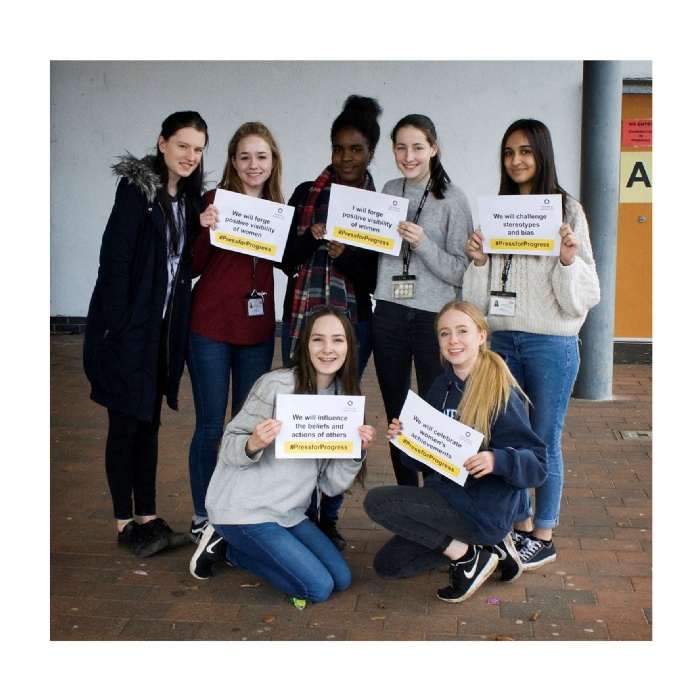 The Highdown community celebrated International Women's Day on 8 March 2018 to join the campaign #PressforProgress.
Female Sixth Form students and staff gathered to celebrate the social, economic, cultural and political achievements of women and promote a call to action for accelerating gender parity. There were speeches by Ms Cave and 2017 Head Girl Neyma Siddiqui, whilst the current female student head team lead by Head Girl Kate Wyatt oversaw the other activities including a podcast for Highdown School Radio. You can listen to the podcast at the bottom of this page.
The poster was created by Miss Garner and the Highdown Art Club.
International Women's Day (IWD) has been observed since the early 1900's - a time of great expansion and turbulence in the industrialized world that saw booming population growth and the rise of radical ideologies. International Women's Day is a collective day of global celebration and a call for gender parity. No one government, NGO, charity, corporation, academic institution, women's network or media hub is solely responsible for International Women's Day. Many organizations declare an annual IWD theme that supports their specific agenda or cause, and some of these are adopted more widely with relevance than others.
With the World Economic Forum's 2017 Global Gender Gap Report findings telling us that gender parity is over 200 years away - there has never been a more important time to keep motivated. With global activism for women's equality fuelled by movements like #MeToo, #TimesUp and more - there is a strong global momentum striving for gender parity.
www.internationalwomensday.com/PressforProgress