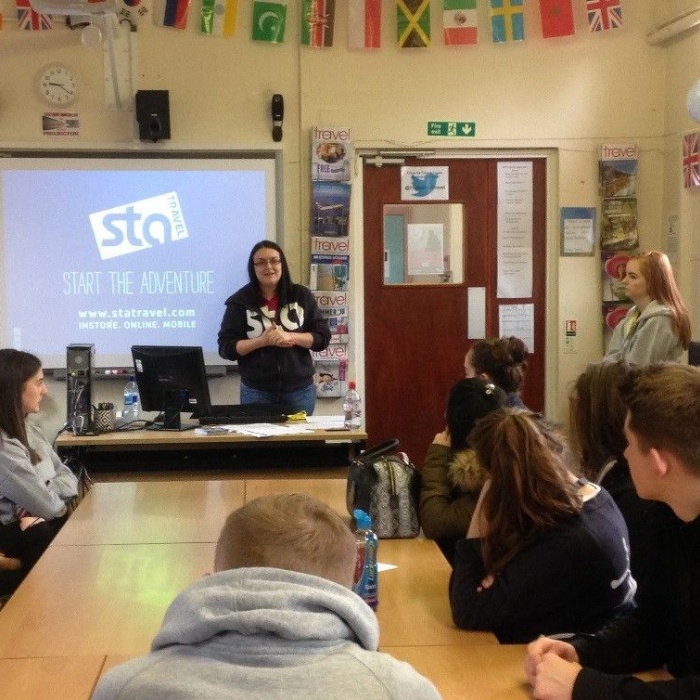 Life at 30,000 feet….
To embrace the human spirit and let it fly' this is the world famous mission statement of Virgin Atlantic, it was also the philosophy that two of their cabin crew focused on when visiting the Travel & Tourism department this term. The flight attendants gave the class an informative talk on life in the skies and the perks of working with one of the most recognisable brands in the industry.
STA Travel who specialise in Gap year round the world adventures have also visited. Keen to forge links with Highdown Sixth Form, the Manageress of the Reading branch and their current Apprentice inspired these BTEC level 3 Travel & Tourism students to broaden their horizons in terms of travel and to also consider applying to work as an STA 'Travel expert' on their reputable Apprenticeship scheme.
Knowledge of a local visitor attraction has been observed first-hand with a visit to Reading Museum, the products and services offered by the museum came under close scrutiny in order for the learners to identify potential gaps in the market. This has resulted in new business ventures being identified in team work with formal group presentations of their business plans being presented later on this term to a panel of judges, including one of the Reading Museum Learning Officer's.
There is a day trip to London planned for the summer term in order to compliment delivery of the 'UK as a destination' unit, Isobel one of the current year 12 students has said "This has been a new, interesting and fun course so far and I love that there are no exams and assistance from our teacher when needed. This doesn't feel as overwhelming as a traditional A level course"
Travel and Tourism Courses at Highdown
If you would like to know more about studying Travel & Tourism as a 1 or 2 A level equivalent at Highdown Sixth Form please contact the course leader, Rachael Staines at Rastaines@highdown.reading.sch.uk or pop in to the Travel classroom in CR7.