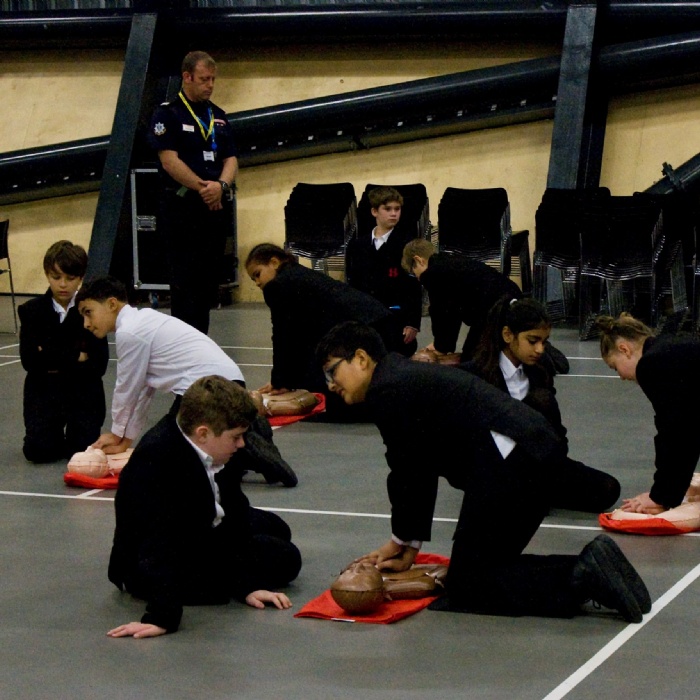 At Highdown School and Sixth Form Centre we were again proud to be involved in Restart-A-Heart Day on Tuesday 16 October 2018. The aim of Restart-A-Heart Day is to teach members of the public how to help restart the heart of someone who has suffered a cardiac arrest. We made it even bigger and better this year by continuing to educate more young people about the benefits of learning cardiopulmonary resuscitation (CPR).
An estimated 30,000 people each year in the UK have an out-of-hospital cardiac arrest and, sadly, less than 10% of those people will survive. Yet, if a bystander is able to start CPR before medical help arrives, they could more than double a person's chance of survival. To support the delivery of this initiative we were delighted and proud to have the NHS South Central Ambulance Service come into our school again, joined by our local Station 1 Blue Watch and our police community support officer to provide hands-on CPR training to our Highdown students.
The ambulance service previously donated to us a number of CPR kits that students will be using in the sessions. We are hoping that students will then pass on their knowledge and skills to other students and to their families.
The vital CPR skills, and the three simple steps that could help save a life:
CALL 999 immediately.
PUSH hard and fast on the centre of the chest 30 times.
Give two RESCUE breaths.
Keep going until the emergency medical services arrive.
If you'd rather not give rescue breaths then call 999 and deliver hands only CPR. That's better than doing nothing.
Pupils left the classes feeling empowered, knowing that their skills will help double the chances of survival for someone in cardiac arrest. We are aware of the importance of this training through the successful resuscitation of a student in 2012 by school staff.
Some Year 7 students also interviewed a member of the Ambulance Service on Highdown School Radio. You can listen to the podcast below.