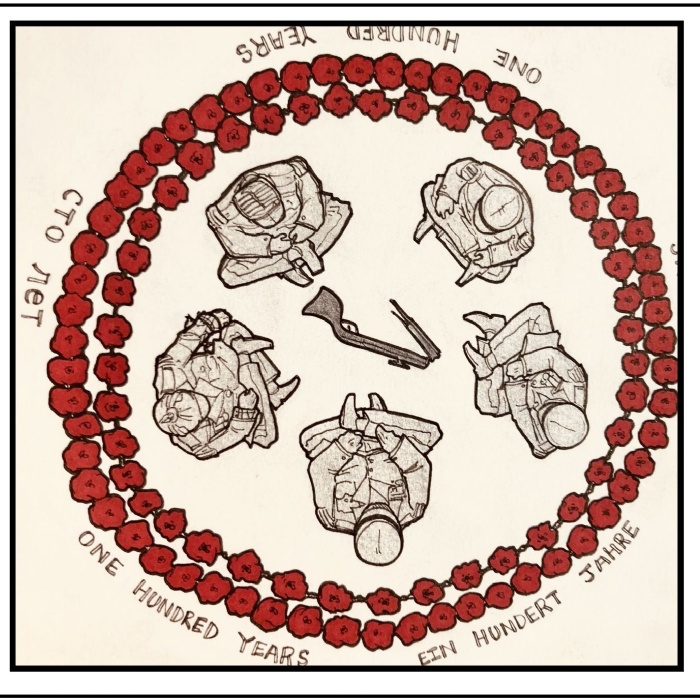 Highdown School held an Armistice 100 event on Monday 12th November..
There was a short ceremony and a fantastic display of students' work including "Armistice2018" postcard entries and winners, a mural by Y12 Enrichment students, a KS3 portrait art project, poetry and stories, drama monologues and our community poppy art based on the idea of "Everyone Remembered", where over 1500 poppies each commemorate someone who has fallen in conflict.
Artwork by Pharo Hutsteiner, Y12, who has been chosen as the winner of the Armistice2018 postcard competition. Students were asked to reflect on WWI and the meaning of peace and armistice.
This poppy plates project was created by Ben and Luke Watts (y10 and y7) and was inspired by the Everyone Remembered project - they have put poppy plates around Caversham commemorating soldiers from the area, putting them on the streets where they lived.
Ben and Luke received a mention in the Studio 21 Blog. Read the post.
Harriet Ranson, Ella Buckley, Pippa Moore and Ed Harris performed the ceremony. The plant is a flowering quince which grows in northern France where much fighting took place, and flowers red, and will be a permanent symbol of commemoration of the centenary in the walled garden at Highdown School.