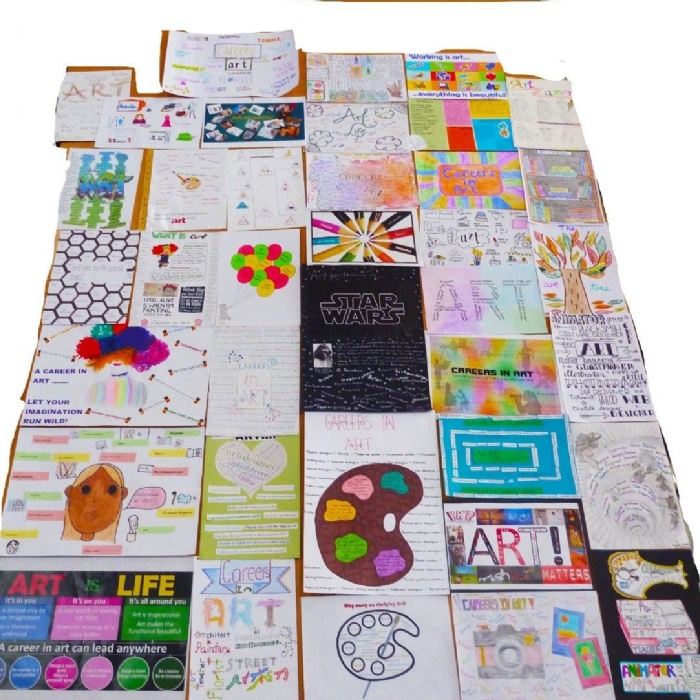 The Art team this term have been overwhelmed with the quality of entries for the Art competition. Students were asked to design a poster to promote creative careers.
​Judging the competition was a very difficult job due to the sheer effort and thought students have given their designs. The winners' and runner up designs will be made into the Art departments' reward postcard and posters.
All of the students below made it to heat 1 and following them are our winners for each year.
Heat 1 congratulations to:
NIKOLAS ARGYROPOULOS 8K, CHLOE ELLIOTT 7F, EVA WATERS 7F, BEA HOWES 7K, RAFA ADAM 8C, ALICE LOYD 8D, REHARA W 9J, SOPHIE CHANDLER 8H, RYAN VICKERY 7G, OSCAR COLLIN 9J, LIDIA JANIK 9G, JACOB BOUGHTON 7E, LILY BALDWIN 9G, SETH SHARPE 7C, EVAN HARTE 7K, OLLIE W ILLIAMS 7F, SEREN GRIFFITHS 8C, GRACIE COLEMAN 7G, FINLAY BUCK 8K, MADDIE ILLMAN 8K, MAISIE SMITH 7D, ANNIEKA ZAHEER SHEICH 7F, BEN EMMETT 8D, BECKY TURNER 9H, ANABEL O'DEA 9G, MADDIE SHAND 8K, BEYZA KAVCEK 7C, GIYA ROY 8K, AISHA SAIDYKHAN 8C, FRASER SHUTTLEWORTH 9H, ELIJAH DAVIDS 7D, BILLIE PRYCE 8H, MIRIAM WHITE 7E, SHERYASH KAUSHIK 7D, ALINA KHAN 7K.