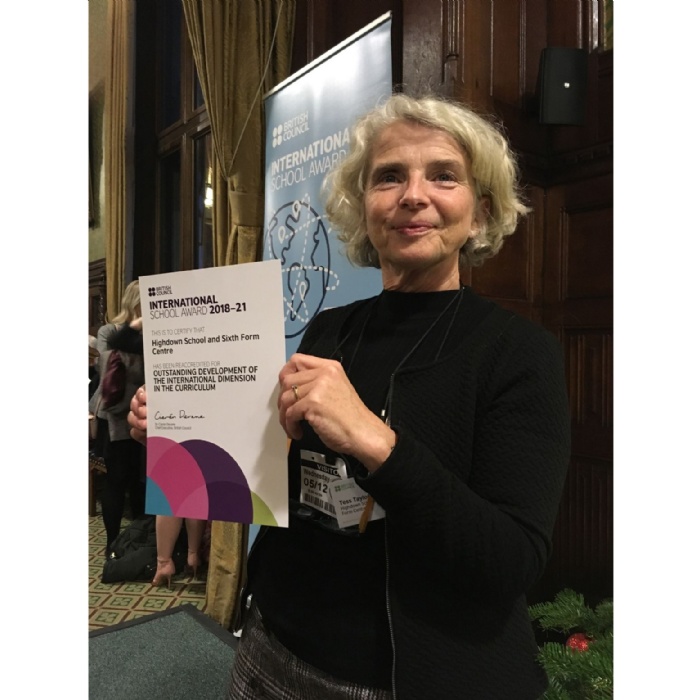 Highdown School and Sixth Form Centre in Emmer Green has been awarded the British Council's prestigious International School Award for working to bring the world into the classroom.
The International School Award celebrates the achievements of schools that do exceptional work in international education. Fostering an international dimension in the curriculum is at the heart of the British Council's work with schools so that young people gain the cultural understanding and skills they need for life and work.
Highdown's international work includes, International trips to Krakow, the Western Front and France, celebrating the Chinese New Year involving outreach work with a local primary school, exploring the migrant crisis, TourAid and an enterprise activity with Maartens College, the Netherlands.
Students at Highdown benefit from all the opportunities that international education can offer and is based on the concepts of diversity, conflict resolution, human rights, interdependence, social justice, perceptions and values and sustainable development.
On hearing the news that Highdown School and Sixth Form Centre had received the award, Mrs Taylor International Schools Coordinator said: It is an honour to accept on behalf of the school the International School Award in recognition of our outstanding development of the international dimension in our curriculum. Receiving this globally recognised award is an acknowledgement that at Highdown we embed the international perspective within our school culture by giving students a window into different cultures and countries, by helping them develop as responsible global citizens and by preparing them for life and work in a global society. Our international activities represent a real effort on the part of our staff and students to embrace other cultures and learn from them.
Sir Ciarán Devane, Chief Executive of the British Council, said: "Highdown School and Sixth Form Centre has brought the world into its classrooms, earning them the British Council International School Award. Their pupils' education is enriched with international activities that help children develop the skills they need to thrive in a globalised world."
The award is sought after worldwide by schools from countries such as India, Sri Lanka, Lebanon, Cyprus, and Pakistan. Around 5,500 International School Awards have been presented to successful schools in the UK since the British Council scheme began in 1999.
The International School Award encourages and supports schools to develop:
An international ethos embedded throughout the school
A whole school approach to international work
Collaborative curriculum-based work with a number of partner schools
Year-round international activity
Involvement of the wider community