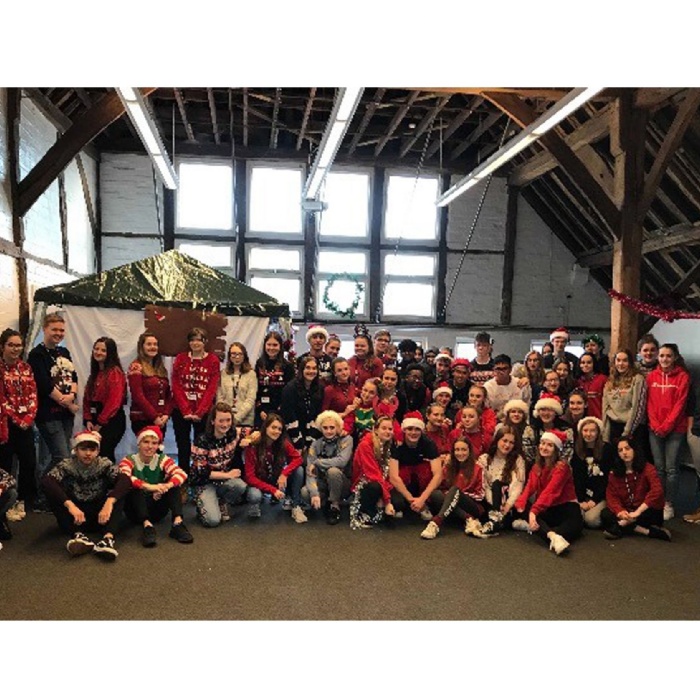 On Monday 17th December, a large portion of Year 12 welcomed the students of Brookfields into the barn for a Christmas party to remember. The barn was festive with garlands of tinsel, Christmassy wreaths and decorated Christmas trees; complete with its very own Santa's grotto. This was all due to the hard-work put in by the decorating team.
The excited party-goers were welcomed individually by 36 outstanding Year 12 one-to-one helpers, decked with Christmas hats, jumpers, earrings and even some tinsel. After a lively game of pass-the-parcel, sixth former, Ollie Evans, as Santa made quite an entrance accompanied by elves and reindeer: before arriving in his grotto to treat each Brookfields child with their personalised gift, each sought out by the student's one-to-one helper.
Thanks to the efforts of the entertainment team, the students were able to pick from a range of activities from making cards to playing with slime: that is if they weren't giving a few sixth formers the run about in the outdoor garden however. Also, the catering team provided a wonderful selection of snacks and treats for both the Brookfields children and staff.
Of course, this special celebration wouldn't have happened without the supervision and organisation of Miss Clarke and Mr Prior, so a big thank you to the both of them for making it all possible.
Archie Barker (Head Boy)