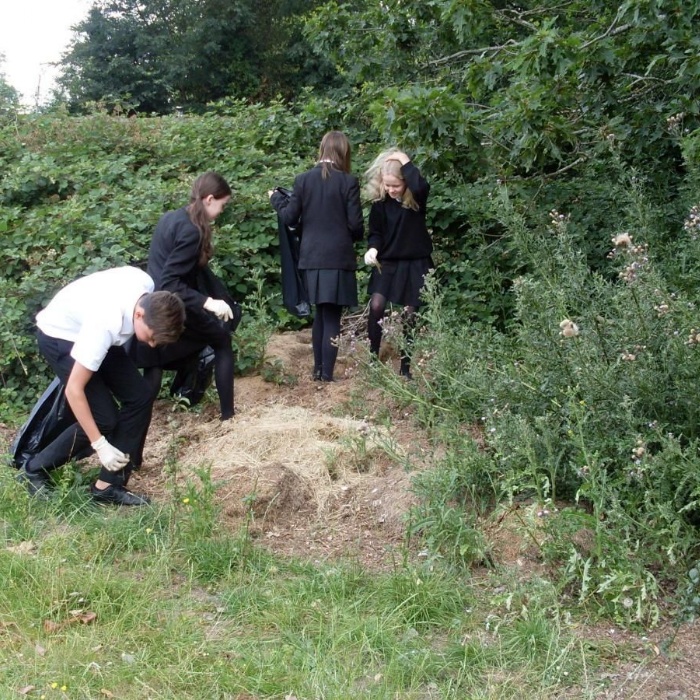 Students from Highdown School and Sixth Form took time out of their school day to help tidy the surrounding area.
The project was organised by teacher, Andy Franks, who wants to both educate the students about the importance of their actions and to encourage them to give back to the community by protecting the area for future generations.Year 8 student, Sofia Mehmet, and Year 10 student, Ben Watts, are keen environmentalists who took part in the litter pick.
In her spare time Sofia goes out with her friends to litter pick explaining that she feels proud to see the difference she has made.
She said: "It's our future we have to bring the change if we want it."
Ben has also taken time to help the environment by participating in a Dorset beach clean earlier this year.
He explained it was "shocking to see how much there was" but it's helpful to do otherwise the waste ends up in landfill or the sea.
The pair are also part of the school's student led Free Plastic School Committee.
The committee works alongside the pressure group Surfers Against Sewage, who tackle plastic pollution, to sponsor schools wanting to drive environmental change.
Teachers are educating pupils about the importance of reducing the use of plastics and making changes to the school.
In the canteen, students are encouraged to use ceramic plates and cutlery and washable, reusable drinks are used rather than plastic cups.
Gum drop bins also feature on the playgrounds which collect chewing gum which is then turned into utensils.
Sarah Pearce, head of achievement for Year 9, said: "They live in a community they need to take responsibility for.
"They are the ones that are going to remain when we are all gone."
Report by Reading Chronicle's Alice Knight Community Reporter.