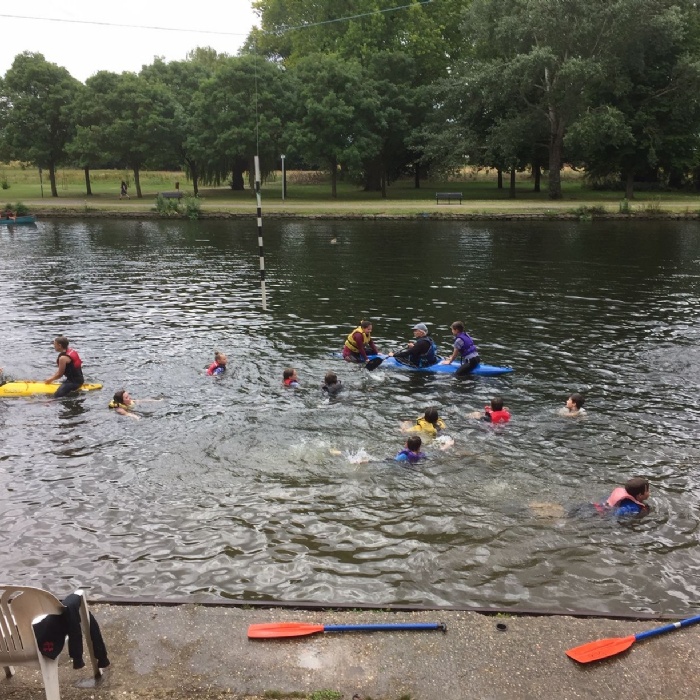 35 excited Year 7s attended the Canoe Fun Day – the first ever hosted by Reading Canoe Club. It was held specifically for students from Highdown School who had completed a 5-week beginner's course during April/May and June/July (a total of 48). It was intended to be part fun / celebration and part a test out of the skills they'd learnt.
R.C.C. coaches Nigel and Jim were leading the sessions, with the assistance of Highdown's own top junior 'coaches' – Sam B, Alex T, Rachel N, Rory T and Joseph B, with Emily N demonstrating the slalom. The four teachers attending were kept firmly on bankside, at least until games time.
The 35 were split into three teams – Red, Yellow and Blue – and got started with a sprint relay. That was in K1, K2 or K4, as preferred. Great racing, only two capsizes and the Red team came out on top.
Next up – Silly Slalom. Again a team race through and round the poles, with a bit of limbo and paddle-throwing-through-the-hoop for a good measure, to get a team time, with penalties for touching poles or missing any out.
Final activity was games on the water – tug of war, charioteering, who could cling longest to the top of Nigel's slalom boat or, if that was all a bit too complicated, simply jumping off the platform for a swim.
Homemade chocolate banana cake and other goodies galore kept the Year 7s' energy levels up and they all had a fun-charged day. They were a lovely crew of enthusiastic paddlers and even the few, who were a little nervous at first, got out there and enjoyed themselves.
A wonderful day made possible by the fantastic team at R.C.C.