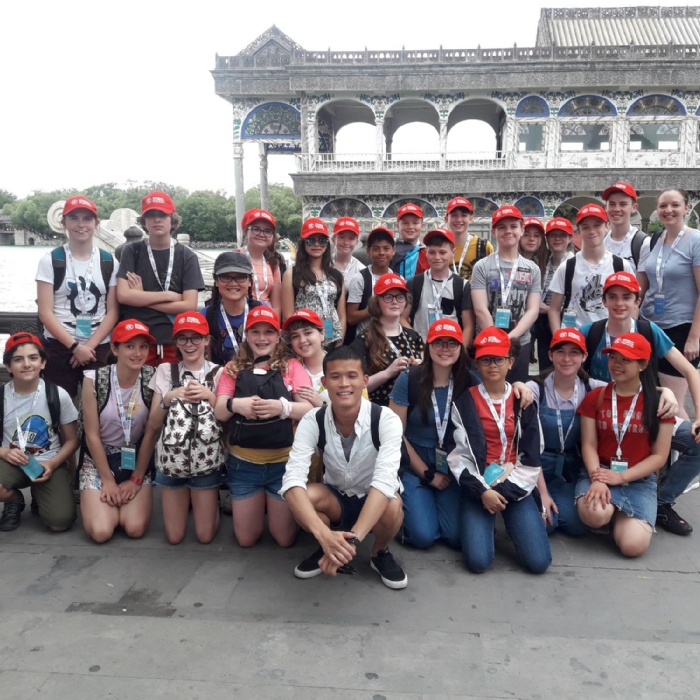 A group of Year 8 pupils from Highdown has returned from a bespoke two-week intensive study visit to Beijing in China as part of a flagship government language programme, delivered by the UCL Institute of Education in partnership with the British Council. The programme aims to get at least 5000 pupils in England on track towards fluency in Mandarin by 2020.
The pupils, all aged 12 and 13, are learning Mandarin as part of the Department for Education's Mandarin Excellence Programme.
More than 800 pupils from schools across England travelled to China as part of the programme, where they were hosted by universities in cities including Beijing, Chengdu and Shanghai and put their Mandarin skills into practice in a range of real-life situations from shopping to taking public transport.
The intensive study visit gave the group of 26 pupils from Highdown the opportunity to boost the language skills they have already gained since they started studying Mandarin in September 2017. Over the course of two weeks they attended 40 hours of Mandarin lessons at Beijing Foreign Studies University, participated in arts and cultural workshops, and worked on projects with Chinese counterparts at host schools.
Pupils also enjoyed Chinese cultural events such as an Acrobatic Show, Sichuan Opera and, alongside their studies, had the opportunity to visit attractions such as Great Wall of China, Summer Palace and Forbidden City.
Our MEP Lead teacher, Mr Wu said: This study trip is indeed a life-changing experience for our students. What they experienced during the trip not only brought positive impact on their language knowledge and skills but also on their learning motivation and curiosity about the world. In addition, this also brought significant impact on their intercultural communication skills, team-work ability, life skills and independence.
As the first initiative of its kind, the Mandarin Excellence Programme gives pupils an unprecedented opportunity when it comes to language learning in England. Pupils take on an average of eight hours of Mandarin study every week in order to reach a proficient level of ability in a comparatively short time.
Mandarin is the most widely spoken language in the world and is recognised as a valuable skill for young people in the UK to acquire, with 77 per cent of British business leaders surveyed in 2018 saying that speaking Mandarin will give school leavers a career advantage. Meanwhile, research by the British Council has found that Mandarin is the second most important foreign language for the UK's influence on the global stage.
Minister of State for School Standards Nick Gibb said:"This intensive study visit provided pupils with a wonderful opportunity to enhance their Mandarin skills and experience first-hand the culture that shapes this incredibly important language.
"Young people fluent in Mandarin will be at a significant advantage when competing for jobs with their peers from around the world. That is why we introduced the Mandarin Excellence Programme, which is on track to have 5,000 pupils fluent in Mandarin by 2020. The enthusiasm and energy that both pupils and teachers are committing to this programme is inspiring and will help build a Britain that's fit for the future in an increasingly global economy."