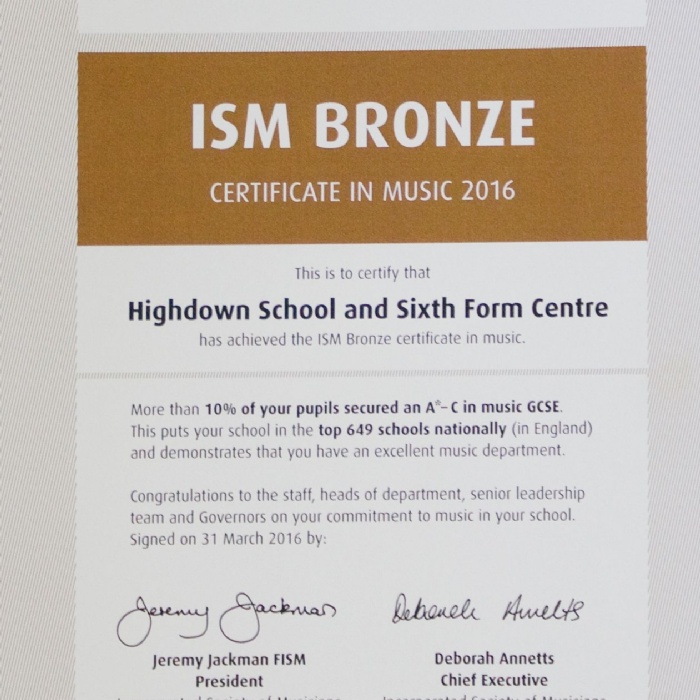 Highdown School and Sixth Form Centre awarded Bronze Music certificate by the Incorporated Society of Musicians
Highdown has been awarded the Incorporated Society of Musicians' Bronze certificate in GCSE music.
This means that more than 10% of all its GCSE students achieved an A*- C in music GCSE in 2016, putting the school in the top 649 schools nationally.
Rachel Cave, Headteacher at Highdown said:
'Music adds huge richness to the lives of Highdown students. Those who study music and music technology through to 16 and 18 enjoy the teaching of fantastic staff who are inspirational and dedicated teachers. The Music team lead musical opportunities for everyone at Highdown: the extra curricular offer is superb with choirs, barber shop groups, orchestra, rock bands, celtic music groups and ukulele bands. Anyone wanting to be musical has something for them. The great school productions and concerts are whole school events, this strengthens relationships between the year groups and also allows development of leadership skills.
We are delighted that so many of our students benefit from our music department's teaching and this award is an honour for the whole school.'
Deborah Annetts, Chief Executive of the Incorporated Society of Musicians said:
'Music is a hugely important subject in itself, for future professional careers and for wider learning in a school; it adds huge benefits to the wider curriculum, school and community life and educational opportunity. As the professional body for musicians, we are delighted to recognise this high level of achievement with this certificate.'
The certificate is supported by the ISM Trust, the charitable arm of the Incorporated Society of Musicians. The Trust was created in 2015 to promote and support music education and music itself.