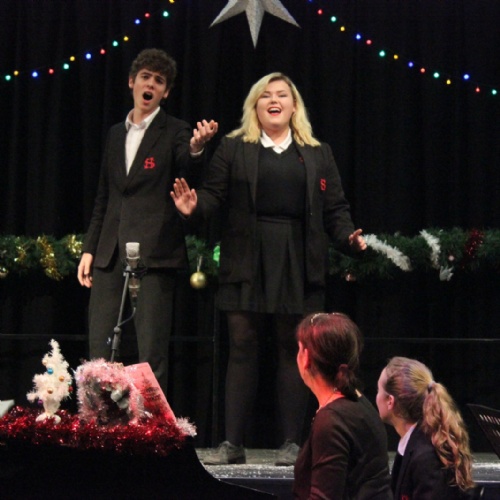 The Highdown Christmas Concert was held on Thursday 10th December 2015 and was well attended by staff, parents and students, filling the school hall with a receptive and enthusiastic audience. The varied programme included both solo and ensemble items interspersed by the customary rousing congregational carols.
The theme this year was the 12 days of Christmas and a large number of Art students produced a series of paintings depicting each day. They also produced a range of Christmas arts and crafts which helped to set the mood before the audience even entered the hall.
The evening began with a candlelit procession by the Senior Choir through the audience singing the haunting and beautifully harmonised carol, 'O Come O Come Emmanuel' leading to a festive solo performance of "It's the most wonderful time of the year". The musical items were interspersed with excerpts from the "12 thank you notes of Christmas" which were superbly read by two KS4 Music and Drama students. The Lower School Choir gave superb renditions of 3 songs, ranging from the more traditional "When a Child is born" to "When we collide" accompanied by the A level Music Technology students. The Senior choir donned Christmas hats, scarves and jumpers to sing "Last Christmas" by Wham! Complete with (fake) snow! The Celtic group gave haunting performances of two pieces they had arrange themselves, with other solo items taking centre stage at various points in the evening, with the duet "Baby it's cold outside" leading to rapturous applause. Ensemble items from the Brass Ensemble, Orchestra and Jumping Fleas (ukuleles) all helped to fill the hall with festive cheer with stunning performances of various well known Christmas favourites such as White Christmas, Patapan, Jingle Bells and Silent Night. The evening culminated in a combined performance of the "12 days of Christmas" by the Senior choir and orchestra which lifted the roof.
The evening concluded with participants and audience alike in full voice singing "Hark the Herald Angels Sing" accompanied by the orchestra. The retiring collection and refreshments in aid of the school charity, Touraid, raised almost £300 and proceeds from the ticket sales will go towards the whole school production of "Into the Woods" which is being staged on 15th-17th March 2016. Congratulations to all the students and staff that took part and helped to make this concert such a professional and energetic close to 2015.