At Highdown attendance is a serious matter. We are all working together to ensure that students achieve their maximum academic potential. It is a well-established fact that poor attendance can have an effect on academic progress.
School Absence Policy
All students should arrive at 8.30am ready for school to begin at 8.40am promptly. It is essential that students arrive at school on time in order to avoid a late mark. If your child is unable to attend school, it is vital that you inform the school of the absence using the Class Charts Parent App by 9.00am.
If your child is not well enough to attend school and the absence is for more than one day please provide a note in his / her planner on their return. For lengthy absences you may be asked to provide a medical note from your Doctor. You can attach this to Class Charts when reporting an absence.
From 19th September 2022, the main way to inform us about a student's absence will be through the Class Charts Parent App which can be downloaded for free from Apple Store/Google Play. There is a guide for how to do this attached below.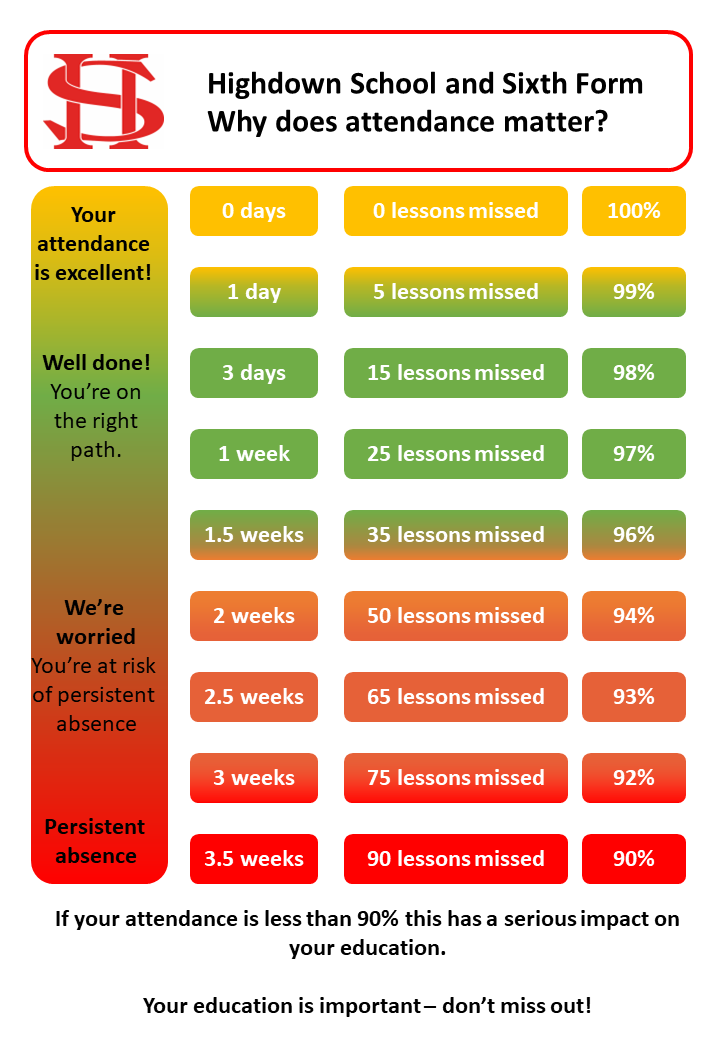 Authorised Absences
Illness backed up by notification on Class Charts Parents App.
Funeral or other family circumstances backed up by a phone call to school or by prior arrangement with your child's Head of Achievement.
Religious observance only if authorised by the school prior to the absence period.
Unauthorised Absences
Leave of absence will only be granted in exceptional circumstances and absence taken when a request has been refused will be marked as unauthorised absence. Family holidays will also be marked as unauthorised absence and such unauthorised absence may result in a Fixed Penalty Fine. Please see below for more information from Reading Borough Council.
Birthday's and family outings.
Refusal by a child to attend school.
The first day of term when there is not an INSET day.
Attendance Policy
Under Section 7 of the Education Act 1996, parents are responsible for making sure that their children of compulsory school age receive full-time education. Parents have a legal responsibility to ensure their child's regular attendance at school where they are registered. If a child of compulsory school age, who is registered at a school, fails to attend regularly at the school then the parent is guilty of an offence under Section 444(1) of the Education Act 1996.
Parents
Ensure that children leave for school on time every day.
Provide written explanation for children's absences from school.
Endeavour not to take children out of school in term time e.g. Book medical and dental appointments for outside of school hours whenever possible and avoid taking family holidays in term-time.
Notify the school as soon as problems arise with your child's attendance.
If no letter has been sent in advance please telephone or email the school on the first morning that the child is absent.
Click here for further information regarding School attendance and absence.
Students
Arrive at 8.30am each day.
Be on time for all lessons.
Make sure that a note is sent from parents to explain absences.
If arriving later than 9.05am or leaving before the end of the school day visit Student Reception to be signed in or out.
Tell your Mentor (Tutor) or Head of Achievement if you are having problems attending school.