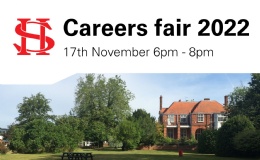 We are delighted to announce the return of our annual Careers Fair!
We are so excited to announce we will hold our Careers Fair on the evening of Thursday 17 November. Careers Fair is for students in Years 9-13 and their families! This is a key event in our careers development programme, and we are extremely grateful to all the employers and organisations for all their support.
There will be something for everyone including advice and guidance on progressing to university, further education, apprenticeships, and traineeships. There will also be presentations on volunteering and gap years.
A wide range of organisations will be available to talk to students about their careers, qualifications, and pathways.
The companies that will be present are as follows:

If you or your organisation would like to book a stand at this event, we'd love to have you! Please contact the team at: careers@highdown.reading.sch.uk or simply fill in this form.