'We live in a digital age. Technology has transformed how we do things, from communication with friends and family to learning about the world around us. The pupils we teach do not know a life without it. The opportunities it offers us to improve education are truly exciting. The question is no longer whether technology should have a place in the classroom, but how technology can most effectively be integrated in ways which achieve improved outcomes for young people.' [Education Endowment Foundation, 'Using Digital Technology to Improve Learning']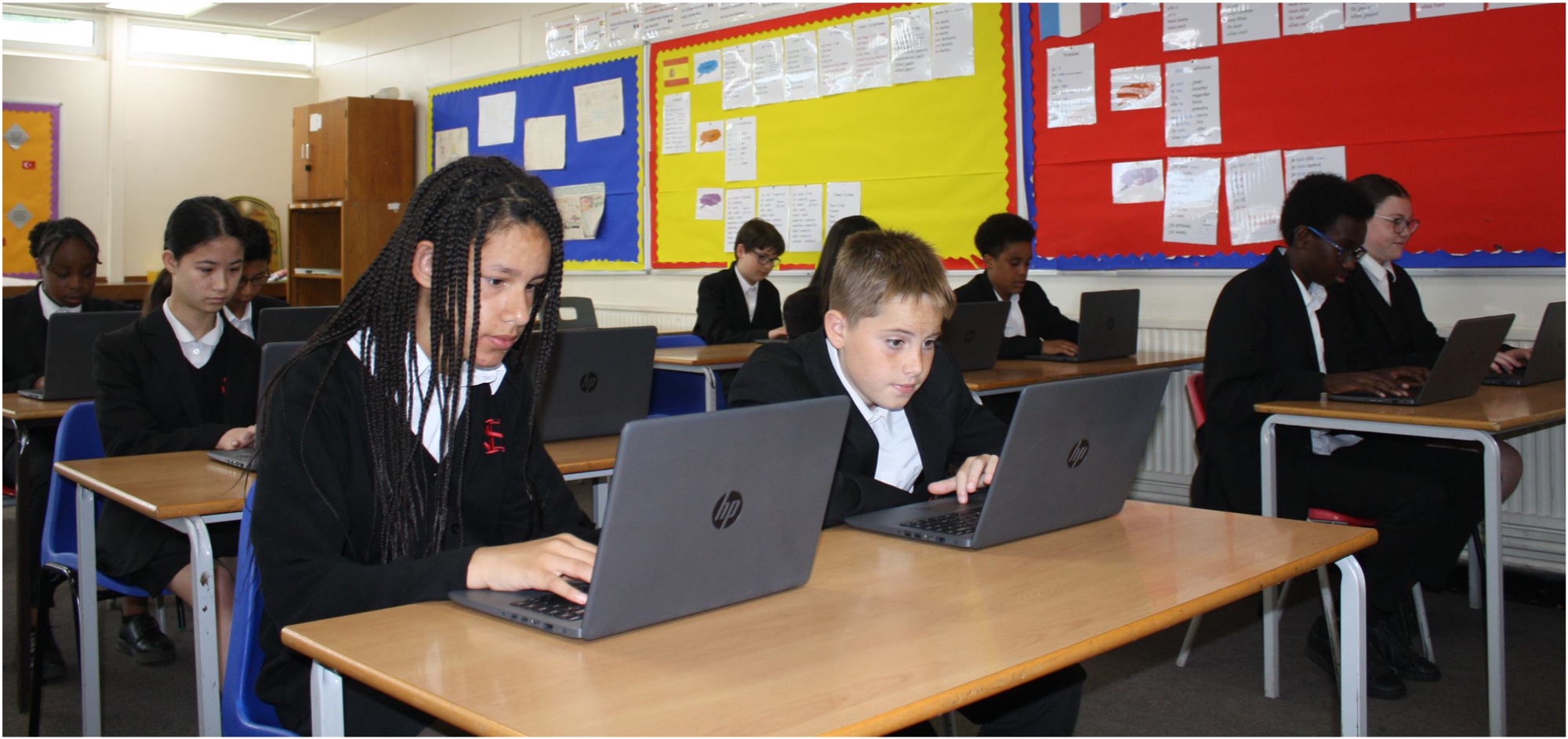 From September 2022, we will be launching a Bring Your Own Device (BYoD) scheme, initially for Years 7, 8 and Sixth Form. We want all students to have access to their own device to support learning within school and at home, providing access to learning whenever and wherever they want; breaking down the walls of the classroom. Students will be expected to bring a Windows-based laptop device with them as part of their daily school equipment. At Highdown School, we want to be at the forefront of educational development.
Why BYoD?
Importantly, the introduction of the Bring Your Own Device (BYoD) Scheme is about our students' learning and progress. It is not about the technology. We believe strongly that our curriculum can be enriched, enhanced and extended through students having access to digital technology in their lessons. This is not intended to replace more 'traditional' methods of learning and teaching, but it does offer many advantages that we cannot ignore.
Some benefits for students include:
Having their own laptop device to support their learning, in school and for home learning enabling continuity of learning

Having greater ownership over and familiarity with their own device

Supporting development of independent learning and collaborative working skills

Preparation for future employment and improvement in digital literacy, ensuring our students are workforce ready

Having greater control over their learning

Accessing a wider range of information

Access to up to date, real-world information

Benefiting from a wider range of experiences and opportunities in learning

Greater opportunities for blended learning to support research, analysis, communication and collaboration

Improved productivity through greater efficiencies, engagement and collaborative opportunities in the classroom

Greater personalisation of learning opportunities to support progress

Access to a range of specialist software in school and at home via our Remote Desktop Service
We are living in a world where access to digital technology as an aid to learning is becoming more and more important, as are digital competency, literacy and safety, in the world beyond school, for which we want to prepare our students as fully as possible. Appropriate, and safe, use of technology will allow students to get the most from our rich curriculum. Furthermore, in recent years, there has been a significant increase in quality online educational resources, and during periods of remote working during the Covid-19 pandemic, we have taken much advantage of these and are keen to continue in a blended classroom.
Access to digital technology in the classroom will encourage engagement, collaboration, leadership and enquiry skills which will promote learning and progression. Furthermore, good access to technology at home can have a positive impact on a young person's educational achievements; it often motivates them to do school work by providing more interesting and engaging ways to learn. Student work is often better presented, so their self-esteem grows, and they can explore subjects that interest them in their own time.
Using technology in a seamless and ubiquitous way in school will help prepare our students for the lifelong adaptability and learning habits they will need to thrive in the modern world. Understanding how technology work in society and gaining subject-specific skills to work with it will equip students to be able to participate fully in the global challenges of the 21st century.
Significance of technology in the local employment market:
Reading has been identified as one of the key digital tech clusters in the UK with a rapid expansion in the number of companies in recent years seeing a turnover of £14bn and employing over 60,000 people in a range of small, medium and global organisations. The Thames Valley has been referred to as the 'Silicon Valley of Europe' because of the very high productivity in digital tech in Newbury, Slough, Heathrow and Reading. Our area is home to a range of well-known digital companies such as Microsoft, Vodafone and O2 as well as some employers you might not know so well e.g. CA Technologies, Zebra, Black Duck and User Replay.
How will the curriculum be enriched, enhanced and extended with access to digital technology?
As a 'Microsoft School', we will be making much greater use of Microsoft Teams, Microsoft OneNote and other office software to support learning and teaching. These are powerful tools used in industry and education to promote sharing, collaboration and communication. Students will also have access to 1Tb storage through their OneDrive account.
Digital technology enables all students to contribute and share their ideas at the same time. This will enable class teachers to find out what every student is thinking and understanding at the same time. Digital technology in the classroom can enable greater personalisation of learning to meet students' needs. OneNote and cloud-based file sharing, can enable students to create, share and collaborate on tasks both in the classroom and at home. Furthermore, having access to a laptop device in the classroom also enables efficient resource sharing as well as enabling access to a far wider range of resources than would otherwise be possible. This will enable greater opportunities for support, challenge and variety in learning. Digital technology in the classroom also opens up some creative opportunities for producing and presenting work. Having access to digital technology in the classroom will also support students' researching and academic writing, promoting independent learning. Digital technology in the classroom can also help place learning in context, for example in Geography, History and Modern Foreign Languages.
Some examples to illustrate how access to digital technology in school and at home will support learning and teaching across the curriculum include access to artworks and photo editing in Art, access to e-scripts and use of OneNote in Drama, access to wider range of texts and live modelling in English, conducting virtual fieldwork and developing GIS skills in Geography, using online translators and supporting cultural research in Languages, accessing online tools such as Geogebra and video tutorials in Mathematics, running simulations and analysis of data in Science, creation of mood boards and logging practical work in D&T, modelling best practice in PE lessons, accessing digital textbooks and engaging in collaborative project work in RE, accessing archives and visualising historical time periods in History, and use of music composition software in Music.
There is no expectation for staff to deliver lessons fully based on access to digital technology. However, over time the digital technology will be used more and more by teachers, as the tools are embraced by both parties on a more regular basis.
What is the scheme being offered by the school?
When you sign up to the scheme with our recommended supplier, FreedomTech, you will get the following:
Acer TravelMate B3
Protective case
Windows 10 Pro
3 year extended warranty
3 year advanced repair service
3 year accidental damage and theft protection (ADT)
Replacement device whilst yours is away for repair
Microsoft Office 365 [free to install with school account]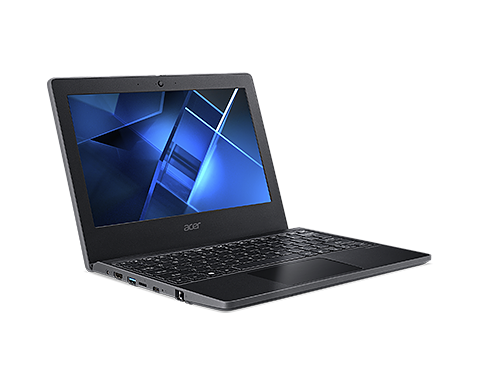 The device specification includes:
64GB hard drive
11.6" LCD display
Wireless connectivity
4GB RAM
HD camera
Up to 12 hours battery life
This device has been chosen specifically for applicability to use in the school and home environment and to cope with daily transport to and from school.
Parents/carers can access the portal and place an order here. Username and password details have been sent to parent/carers via email.
Parents/carers have the flexibility to pay for the device in full or over a period of 12/24/36 months. There are no credit checks - this scheme is open to all families. On the final payment, the device becomes yours, with no additional cost.
Why are we using a leasing scheme?
The benefits of using a leasing scheme with FreedomTech are:
Lower monthly payment amount available through ability to pay the device back over a greater period of time
Device cover, protecting the device against theft or accidental damage with no excess to pay [approx cost of screen replacement for a 'high street device' could be up to £100]
Excellent customer service, including a replacement device provided during any period of repair
Full ownership of the device once final payment is made with no further costs
You do not need to purchase a subscription of Microsoft Office or Microsoft 365 as this is provided free by us for the duration of your child's time at Highdown School and Sixth Form Centre. Students will also be able to access a range of other software via our Remote Desktop System, e.g. Adobe Creative Suite.
Do I have to purchase the device being offered?
We want all students to have access to digital technology (laptop device) in their lessons. However, we recognise some students will already have their own laptop device and may wish to bring this to school. Similarly, parents/carers may wish to purchase their own device. This is okay as long as it meets the minimum specifications: Windows operating system, has a camera, has a battery that will last the school day.
However, the benefit of the scheme being offered by the school is that a replacement device is provided should a device need to be sent away for repair. This ensures continuity of provision and education. Furthermore, there is no additional cost for repair and this covers a 3-year period for accidental damage (including liquid) and theft. By purchasing through a scheme such as this, you can save over £100 on the package.
We will not be able to provide any tech support or insurance cover for non-scheme devices. Other device types, e.g. Chromebooks, may not be fully compatible with all tools, may not have sufficient battery power to last the day and because they often work in different ways we could not expect staff to be able to understand the different problems a student may face in the classroom. For example, if a student is struggling to connect to the WiFi during a lesson, there will be issues trying to find the settings for that particular device and the different routes associated with that device's operating system.
The portal provides a comparison of the cost for this scheme compared to like-for-like for a 'high street purchase'.
How have other schools benefited from BYoD?
Some of the benefits cited by other school's using this type of scheme include:
Students are more accountable and more engaged
The opportunity for real-time digital feedback offers students more privacy and less self-consciousness
Having a device nurtures creativity, independent and curious learners who can facilitate their own learning
Students have reported 'increased feedback and interaction with teachers has improved my marks'
Sharing of presentations and resources enables students to access and interact with them
Collaboration across classes over time or in real-time
Independence in learning, with students seeking out knowledge and developing as problem-solvers by accessing a wealth of information online rather than asking the teacher straightaway
Using e-textbooks which are up-to-date
Students are prepared for learning and for life in 21st Century
Through this scheme students who are absent from lessons benefit
Live assessment for learning can help inform teacher's planning or indicate if the lesson needs redirecting
FAQs
When should I purchase the device?
The current portal closes on 10th July 2022. The first payment will then be taken on 25th July 2022 with the device arriving in school mid-June. [The first ordering window closed on 10th May with first payment made on 25th May 2022].
What happens when the scheme finishes?
When you have completed your payments the device is yours to keep. There is no additional charge at the end of the payment schedule.
What happens if the device gets damaged or develops a fault?
The device is fully insured against accidental damage and theft for a period of 3 years. Any accidental damage (including liquid) or device faults are fully covered.
How do I make a claim if the device is damaged, faulty or is stolen?
You will receive a policy and claims document from FreedomTech which will provide details.
How long might it take for a device to be repaired?
It takes approximately 10-15 working days for a fix or replacement to be arranged/completed. We will issue a loan device whilst your device is away for repair.
What happens if the device is lost?
Theft of the device is covered for a period of 3 years. Loss, however, is not covered under the scheme insurance (your home insurance may cover this). If the device is lost, you would be liable to continue to contribute for the entirety of the scheme. We would strongly recommend you ensure that the device is part of your home contents insurance, with respect to being covered outside the home.
What happens if my child forgets to bring their device to school?
We will have a number of devices available for daily loans should students forget their device.
What happens if I can no longer make a payment or no longer want the device?
If the device has an outstanding balance you will need to return the device to the school. You will not own the device until the final payment is made.
What if my child leaves the school?
You will need to pay the outstanding balance or return the device to the school.
Is the school making any money from the scheme with FreedomTech?
No.
Is 64GB hard drive storage enough?
It is the aim of this scheme for most files to be stored on the Microsoft Cloud using OneDrive. Students have access to OneDrive, irrespective of what device they use, as this is part of their school Microsoft account. This provides 1TB of storage space which is theirs for as long as they are a student at Highdown School.
Will my child's work be backed up?
Work will be stored securely on the Microsoft Cloud and is saved as you work on the device. This work is then available to any device connected to the internet (with your username and password) and can easily be shared with teachers and other students. Through use of OneDrive as part of our Microsoft infrastructure and licence, student's work will be backed up and can be restored if accidentally deleted. Furthermore, through Office applications, work will be autosaved to avoid any work being lost.
Can students charge their device if the battery runs flat?
No charging facilities are provided in school. Students will be expected to have a fully charged device at the start of each school day. A fully charged device is a required part of the student's equipment. If a student comes to school without their device or one which is not adequately charged then they will receive consequences in line with the school's Behaviour Policy.
Who is responsible for charging the device?
We expect devices to be charged for the start of each school day, so responsibility will be put on students to ensure they come to school with a fully charged device.
Can power banks be used to charge devices?
Yes, there are a range of power banks on the market which provide portable charging solutions for the laptop devices. The power bank will plug into the USB port.
What do students do when they are not using their device?
The device should be stored in the student's bag, inside the case provided, as with other equipment. During PE lessons, the changing rooms are locked when unattended by staff, ensuring security for devices.
What is my child's bag is too heavy with a device in it?
The device recommended is used in schools by students in this way and is relatively lightweight. Students are able to rent a locker to store books/PE kit/etc. We encourage students to only bring the books required for the day in their bags. We recommend a sturdy rucksack to spread weight evenly, irrespective of carrying a device or not.
Does this put young people at risk?
We have considered the question of safety of students very carefully. In doing so, we have looked at other schools' experiences, considered prevalence of technology carried in public in the area, and looked at existing use of mobile phones in public spaces by our students (many of which are as/more valuable than a laptop device, e.g. an iPhone costs over £400). After considering these we made the assessment that to add a device to students' rucksacks was not likely to increase the likelihood of students being targeted by muggers. This is not to underestimate the issue, however, and we work closely with our local policing team. Whilst the device may be a desirable object, it is highly likely, loss or theft would only occur where the device is left unattended. We will continue to educate students about not leaving/using expensive items on display or unattended. Local crime data also indicates there have been no theft from persons in the last year in the local area.
Should my child have earphones/headphones?
Yes. Students should bring to school ear/headphones which can be connected to their device to allow them to access audio and video resources. Ideally these will be connected via a lead rather than bluetooth.
Will these devices replace exercise books?
The majority of subjects will continue to use exercise books and students will continue to complete handwritten work. Ultimately, most public examinations continue to be completed by hand, so students need to be prepared for this. There may, however, be some subjects at Key Stage 3, which opt to use OneNote, for example, rather than an exercise book to capture student thinking, understanding and work.
What about writing?
Students will continue to write by hand for most of their work as this is good preparation for their examinations, which are still completed by hand.
Will this increase the amount of screen time for young people?
It is unlikely that in any lesson students will be using their device for the full lesson. Lessons will naturally be 'chunked' as they are currently through more traditional forms of teaching and learning. Staff will, however, be reminded of the 20:20:20 rule and encourage regular opportunities for students to look away from their laptop device, e.g. at the teacher or the large screen at the front of the classroom.
How will the device be connected to the school network?
The students' devices will be connected to the school's dedicated BYoD WIFI network, separate from the school's core WIFI network. Your child will receive support on how their device can be connected to the BYoD network. Support will also be provided by the IT Department for any students who experience issues trying to log on to the school network using their personal device.
Will my child receive support in setting up the device?
Yes. We will assist students with connecting to our BYoD network and how to instal Microsoft Office on to their device.
What software is required?
Students will need access to Microsoft Office suite, including Microsoft Teams, Outlook, OneDrive and OneNote. However, you do not need to purchase/subscribe to this as we will provide this for free as part of our licence. Parents/Carers are recommended to install antivirus software on to the device as it will be used at home and in school. Most antivirus software subscriptions today offer multi-device installation. It would also be helpful for students to bookmark the following websites on the Internet browser: Class Charts, Kerboodle, Accelerated Reader. Google Chrome should also be installed as the default Internet browser.
Can I instal additional software on the device?
Yes. The aim of the BYOD programme is to enable your child to develop their use of digital devices in ways that support them and their individual learning. Students should treat the laptop as their own when at home. A big part of the success of this scheme will rely on students valuing the laptop as part of their wider life and therefore taking care of it, charging it and bringing it to school every day. Therefore, students are able to download non-educational Apps to enjoy at home as long as they are appropriate in content. Any downloaded music, videos and movies should be saved to the device or to the students own cloud storage solution, and not the school's Microsoft OneDrive storage.
Why can my child not use their mobile phone?
Mobile phone technology can be fantastic and can offer many opportunities to support learning and teaching. However, there are drawbacks and concerns relating to these devices.
Screen sizes are often too small to access resources and/or complete activities
Not all resources may be accessible on all phone devices, depending on their operating system and age
It is too easy to become distracted by other features of personal mobile phone devices
Mobile phone devices do not offer the same level of online safety via their 3G/4G/5G networks as offered by laptop devices connected to our filtered network
Accessing specialist software via our Remote Desktop System will not be possible or work effectively
What will happen at the start of the school year?
Students will be supported during the first few weeks in using their device in school. This will include help accessing the school wi-fi network, accessing Microsoft Office and Class Charts. We will also help students access their school email. Students will be introduced to the Digital Golden Rules and Responsible Use policy.
Furthermore, we will offer scheduled drop-in help sessions at break and lunchtimes for any students who need some troubleshooting, additional help or a confidence boost. Details of these will be shared with students via their mentor.
There will be a delay in starting to use the devices in lessons at the very start of the year as there will need to be time to distribute the devices to students or their parent/carer. More details will follow.
Online Safety
Students learn about keeping safe online and in a digital world as part of their curriculum. We are also members of National Online Safety which provides parents with a wide range of free guides, webinars and updates: www.nationalonlinesafety.com.
There are a wide range of links regarding online safety on our website here.