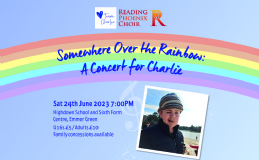 Over The Rainbow: A Concert for Charlie was a huge success last Saturday, the 24th!
Highdown School Junior Choir took part in a great workshop in the afternoon along with the Hill School Choir. The evening performances by Reading Phoenix Choir, the Hill and Highdown were beautiful, and everyone did Charlie proud. Charlie's family were blown away with the outpouring of love and respect for Charlie; there were almost 300 audience members as well as the three choirs, and Team Charlie raised over £2,100!
We are so proud to have been able to host such a wonderful event.
If you would like to support young people with brain tumours through Team Charlie, please see their website here: https://www.teamcharlie.org.uk/