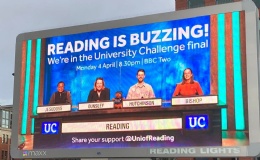 Mr Hutchinson's debut on University Challenge!
"It's all an excuse to learn!"
Reading University make history by making the University Challenge final!
Reading University sailed through to the Finals of University Challenge this week (the first time in Reading's history), beating strong contenders Edinburgh University. Reading's team captain is Highdown's very own Mr Hutchinson, a teacher in our Maths department.
University Challenge was not Mr Hutchinson's first taste of TV Quizzes. Wins on both 'Who Dares Wins' and '15-to-1' really sparked his interest in quizzes and the journey on his love of learning began. And where his ambition to become a teacher started. In his words "It's all an excuse to learn!". He began working hard on building on his general knowledge; reading, learning and remembering facts, figures, dates and linking this to his prior knowledge.
Mr Hutchinson applied to University Challenge through Reading Uni's online open try-outs, involving answering 40 general knowledge questions. He sailed through the process to become part of the team and was a natural choice for the Team Captain role. Being in the Captain's Chair allowed him to take off part of the pressure on the team and be able to make any inspired guesses on the bonus questions.
Reading beat Strathclyde in the first round with a decisive victory. It was the first time the team met host Jeremy Paxman – who Mr Hutchinson describes as 'a legend' and not as grumpy in real life as he is on tv.
In the second round they sailed through beating Dundee 245 points to 50. Making this the first time Reading had made it through to the quarter finals in their history. They went on to beat Birmingham University in the first of the quarter finals.
In the second of the quarter finals, they were beaten by Imperial College London (their grand final opponents!). With his teacher mind-set, instead of accepting defeat the team learnt from their weaknesses and used this to spur them on before their next game. They spent many hours prepping; quizzing, reading and most importantly extra buzzer practice. They were ready for the final quarter final and showing resilience and determination to bounce back with victory against St Johns College of Cambridge University.
Finally, Reading managed an impressive semi-final win over Edinburgh University and earned themselves a place in the grand final. Of all the wins, this was the most rewarding as the team dug-deep and pushed themselves to victory against some formidable opponents.
And to the final...they take on the only team to defeat them, Imperial College London. Good luck Reading!!
We are very proud of Mr Hutchinson and we look forward to watching him in the final on Monday 4th April at 8.30pm on BBC Two.